The History of Hodell-Natco Industries
Hodell-Natco has a long and rich history that spans over 130 years. Its roots go back to the founding of two Cleveland, Ohio-based firms in the late 1800s. Today, with five distribution centers and three satellite facilities across the United States, Hodell-Natco has solidified a national footprint in the fastener distribution industry.
The 1800s
A rich history that started in Cleveland, Ohio…
1886
The Hodell Chain Company is established by the Hodell family in Cleveland, Ohio as a manufacturer of sash and tire chains.
Over the years, it evolved into a manufacturer of various welded and weldless chains used as hardware and in industrial applications.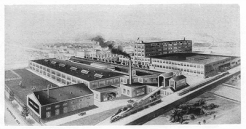 1899
National Screw and Manufacturing Company was incorporated and went by the name National Screw & Tack Company.
It operated near E.55th St. and Carnegie Avenue in Cleveland, Ohio as a manufacturer of screws, nuts, and bolts.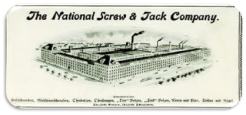 Mid-20th Century
Introducing Nat Man!

1954
National Screw and Manufacturing Company acquired Hodell Chain and continued to operate Hodell Chain as one of its divisions.
1966
National Screw established Natco Fasteners as a warehousing division for the distribution of standard fasteners. 
1967
National Screw purchased the Bolt & Nut Co. in St. Louis, Missouri, to expand the Natco division. This propels Natco Fasteners to become a full-line distributor of standard and specialty fasteners. 
1974
Monogram Industries, a conglomerate out of Los Angeles, California, absorbed National Screw and continued all of its operations as a subsidiary company.
The 1980s
An era of learning, rapid growth, and expansion.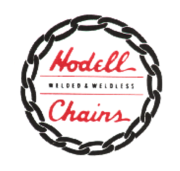 1983
Monogram Industries sells the Hodell Chain division to a private investment group in Cleveland, Ohio and Otto Reidl is named President.
1984
Monogram Industries is acquired by Nortek Inc. who then sells the Natco Fastener division to the same Cleveland investors who purchased Hodell Chain. Otto Reidl simultaneously presides as President over Natco Fasteners. 
1986
Otto Reidl leads a growth via acquisition strategy for Natco Fasteners. Natco Fasteners purchases Bi-State Stainless and strengthens its foothold in the St. Louis fastener market.
1987
Natco Fasteners purchases Cleveland-based Service Bolt & Nut customer list out of bankruptcy proceedings.
1989
Natco Fasteners purchases Metal Fasteners & Bolt Company including its Lok-Tooth division.
This acquisition gave Natco Fasteners the distinction of being an authorized master distributor of tooth lock washers for ITW Shakeproof, a global fastener manufacturer. The master distributorship gave Natco Fasteners a distinct competitive advantage to expand sales in the tooth lock washers market.
1989
After travelling to China to learn more about Chinese chain manufacturing, Otto Reidl correctly predicted China would soon dominate the global chain manufacturing market.
The abundance of cheap labor in China compared to the United States, combined with new, state-of-the-art welded chain manufacturing equipment, would make it impossible for Hodell Chain to maintain long-term manufacturing success. As a result, Otto preemptively sold off Hodell Chain's welded chain manufacturing equipment and refocused the company on chain distribution.
1990
Otto Reidl, solidified his theory that chain distribution (not manufacturing) should be Hodell Chain's core competency. Consequently, he strategically directs Hodell Chain out of the manufacturing business by selling off all remaining weldless chain manufacturing equipment to Perfection Chain.
The 1990s
A merger for the history books!

1993
After running both Hodell Chain and Natco Fasteners independently for a decade, Otto Reidl merges the two distribution companies to form Hodell-Natco Industries.
By serving various markets often consuming both fastener and chain products, Hodell-Natco experienced rapid, first-year growth. To accommodate the rapid expansion and achieve economies of scale, Hodell-Natco moved into a larger facilities and merged operations in both Cleveland and St. Louis.
1996
Hodell-Natco acquires Southwest Fasteners in Houston, Texas to expand their footprint into the southern United States.
1998
Dan Reidl joins Hodell-Natco's Purchasing Team. Hodell-Natco acquires Acton Stainless Threaded Fasteners USA Corporation in Phoenix, AZ and New Castle, DE to expand its geography and product line.
1999
Kevin Reidl joins Hodell-Natco as General Manager of the Cleveland, OH branch. Hodell-Natco purchases LMP Fastek, an industrial fastener distributor in Milwaukee, Wisconsin.
The 2000s
21st century acquisitions and expansions, despite economic downturn.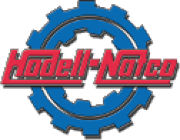 2001
Hodell-Natco purchases Assembly Fasteners in Columbia, South Carolina and Chicago, Illinois, to broaden its reach particularly in the southeastern United States.
2002
Hodell-Natco acquires Bonanza Nut & Bolt, a fastener distributor in Reno, Nevada. This expands Hodell-Natco's reach all the way to the West Coast.
2003
Additionally, Hodell-Natco adds Western Chain to their list of acquisitions.
2004
Under his father's leadership, Kevin Reidl becomes Hodell-Natco's Executive Vice President.
2005
Hodell-Natco purchases Missouri Bolt Inc. and adds to their market share in St. Louis.
2008
The United States experienced a financial crisis and entered the Great Recession, the worst economic downturn since the Great Depression.
2009
As the manufacturing industry falters during the recession, Hodell-Natco's leaders (Otto, along with sons, Kevin and Dan Reidl) carefully navigated a severe business downturn for two years.
The 2010s
A successful rebound and repositioning, propelling Hodell-Natco into a new phase of growth.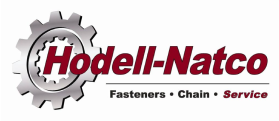 2011
After a successful rebound, Kevin Reidl became President of Hodell-Natco Industries and Otto Reidl assumed the role of Chief Executive Officer.
Dan Reidl transitioned to its Sales Leader. A formal, long-term strategic plan was put in place to guide the company in terms of culture, customer experience, operational excellence, and profitable growth. A decision was made to focus sales efforts on specific strategic target markets.
2012
Hodell-Natco formed a corporate leadership team.
It transitioned away from multiple autonomous business units to a more homogenous team with centralized functions including Accounting, Purchasing, Sourcing, IT and Marketing at their corporate headquarters in Cleveland, Ohio. This move was done to eliminate redundancies, improve consistency, strengthen supplier relationships, increase transparency, and especially to bolster teamwork and collaboration among all business units.
2017
Kevin Reidl made several business moves to reposition Hodell-Natco as a fastener distributor with a long-term focus on VMI (vendor-managed inventory) partnerships with customers.
First, Hodell-Natco sold its non-strategic packaged fastener business to Lindstrom, LLC. Later that year, Hodell-Natco sold another non-strategic business unit, chain, to Perfection Chain Company. The capital from these sales was used to fund the acquisition of a highly strategic competitor, Davco Fastener Company. These divestitures and subsequent acquisition have propelled Hodell-Natco into a growth phase where it continues to benefit from a strategically focused business model.